Lilongwe Bed and Breakfast Accommodation
Welcome to Cluny Lodge
Cluny Lodge offers guests comfortable and affordable Lilongwe B&B Accommodation for all types of travellers
View Our Gallery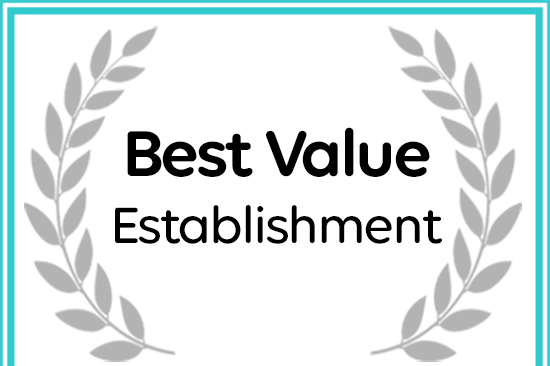 Afristay
has named Cluny Lodge a Best Value Malawi Guest House.
Cluny Lodge is an exclusive guest house, centrally situated on a quiet cul-de-sac in Lilongwe Malawi, ideally suited for working consultants.
We are situated a block away from the Lilongwe Portuguese Club and are within walking distance of the popular Crossroads Center with all its amenities. Old Town city center is also easily accessible and a reliable taxi service is on call for guests wishing to commute to the Capital City and surrounds.
The guesthouse offers a safe, secure and comfortable "retreat" for visitors to Lilongwe- Wake up to the happy sound of birds calling in the early morning- our large shaded grounds offer a serene, peacefull and comfortable place to relax in.
The staff are friendly and helpful- their enthusiasm for the comfort of the guests is reflected in the personal and prompt attention to your needs- the principal is that "A happy guest is a returning guest AND one that will recommend Cluny Lodge!" They are always on hand with advice, guidance and assistance whenever required- one of the reasons they have achieved the high rating on TripAdvisor.
"Everything you could possibly want"
I had an absolutely great time staying at Cluny Lodge - it really felt like a home away from home. The owner, Marinus, was incredibly attentive and helpful, it felt like being welcomed into a friend's home. He even went out to buy me a new phone charger when mine broke! The breakfast is great, the rooms are huge with very comfortable beds and all amenities. The place is beautifully cared for, and has plenty of quiet space for working - it is absolutely ideal for a work trip. Would definitely visit again!
kitmc17, Melbourne, Victoria, Australia
"Cluny Lodge is the place to stay"
I have traveled to Malawi over the past 12 years and there is no place better than Cluny Lodge when it comes to a safe friendly and very accommodating host. They go out of their way to make sure their guest are completely satisfied. I have had to modify my trip at the last moment and they were very flexible in rearranging my reservation. This lodge very clean, safe, and in a good location to town.
rswleong, Seattle, Washington
"Excellent"
I stayed at Cluny Lodge for six nights and have nothing but good to say. Marinus, Bev, and all the staff made me feel welcome and cared for from the moment of my arrival. The room was very clean, very comfortable, and any extra services I needed like cleaning clothes, shoes, etc. we're done perfectly. I ate breakfast and dinner each day of my stay and the food was excellent! It's so refreshing to have a place to rest, relax, and enjoy the atmosphere of hospitality that Cluny Lodge provides. It's my go to place in Lilongwe
_uriah123452000, Kingman, Arizona
"Felt Like Home!"
I spent nine delightful days at Cluny Lodge; Bev and Marinus were excellent hosts; the staff were very friendly, welcoming, and most accommodating. The Lodge was a quiet,peaceful respite after a long day working in the capital. My room was comfortable and had all the amenities I needed. The daily breakfast, included, had a variety of choices; I especially enjoyed the delicious omelets. I loved interacting with the other guests; the common areas and gardens were beautifully landscaped. If my work takes me back to Lilongwe I will definitely stay at Cluny Lodge.
Jan H
"Very Accommodating"
This is a lovely place, a gated compound with two houses, and guards caring for the comings-and-goings of the guests. The owners did everything to make our one night stay pleasant, including arranging drivers, suggesting restaurants, making sure everything was very clean and safe. We arrived in a heat wave, but the air conditioning took care of that. We heard bullfrogs in the fish pond, and watched a praying mantis walk across the front step. I will return anytime I visit Lilongwe.
Laurel R, Calgary, Canada
© All rights reserved, 2017, Cluny Lodge, www.clunylodge.net
Developed & Hosted by
Miniwebs